Enriched Document Management just got easier with Release 8.4

Enriched document management just got even easier with the launch of Release 8.4 (R8.4). Bring all of your Microsoft 365 locations together with OneDrive for Business now available with your SharePoint locations in our latest desktop release. R8.4 Desktop provides next-level document management enabling correct governance and utilizing all the benefits of using Microsoft 365. You can now copy files to additional locations, update metadata in bulk, rename files, and document sets can now be seen in the content view – all driving user adoption and productivity.
How to upgrade DOWNLOAD R8.4 What's New
Native OneDrive for Business support
We are excited to share our latest release R8.4 that delivers OneDrive for Business into Microsoft Outlook and OnePlaceDocs, available on desktop, as requested by our customers. Native support is now accessible to all users – further driving quick and simple collaboration within your teams.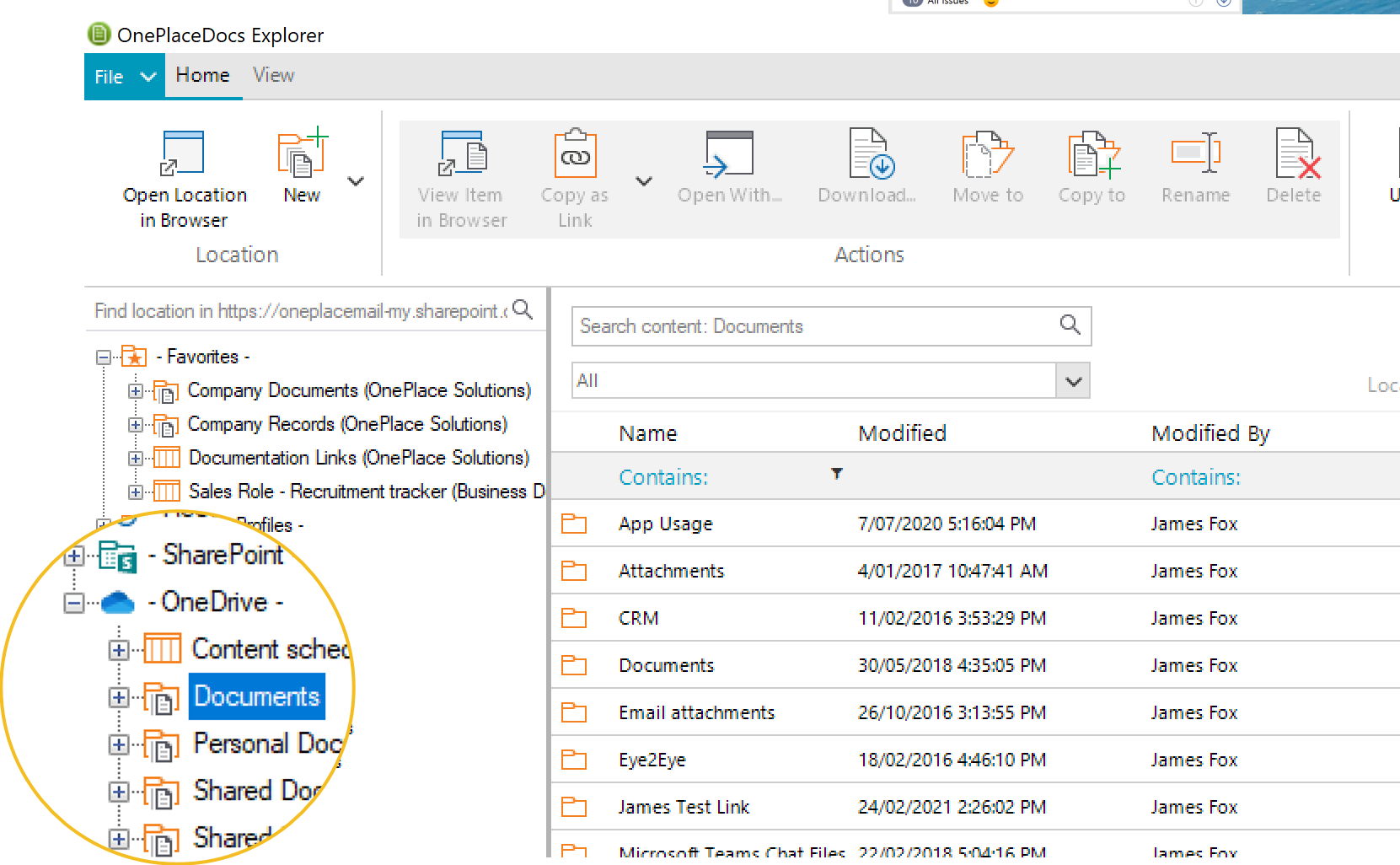 Improve business workflow with native integration to OneDrive
R8.4 enables you and your team to be more productive with modern document management, by delivering access to OneDrive from your desktop and directly from Outlook. This brings all Microsoft 365 locations together in a single user experience. Leveraging the power of OnePlace Solutions, users can take advantage of an intuitive navigation tree, filtering locations and add these locations to their favorites saving both time and effort – allowing you to get back to work quickly. Given your teams already use Outlook this additional functionality is intuitive to users and facilitates fast adoption. The simpleness and ease of being able to save to OneDrive enables employees to use the functionality, in turn discouraging them from saving to personal desktop folder locations.
Simplify access to SharePoint folders & document sets - now in the content grid
SharePoint folders and document sets are now visible in the content grid view. Take advantage of created views and refine folders or document sets to display to users. Users will now be able to select custom views to group document sets and also filter out items based on metadata, reducing the time and frustration of having to click down the folder structure to find the content they want to work with quickly.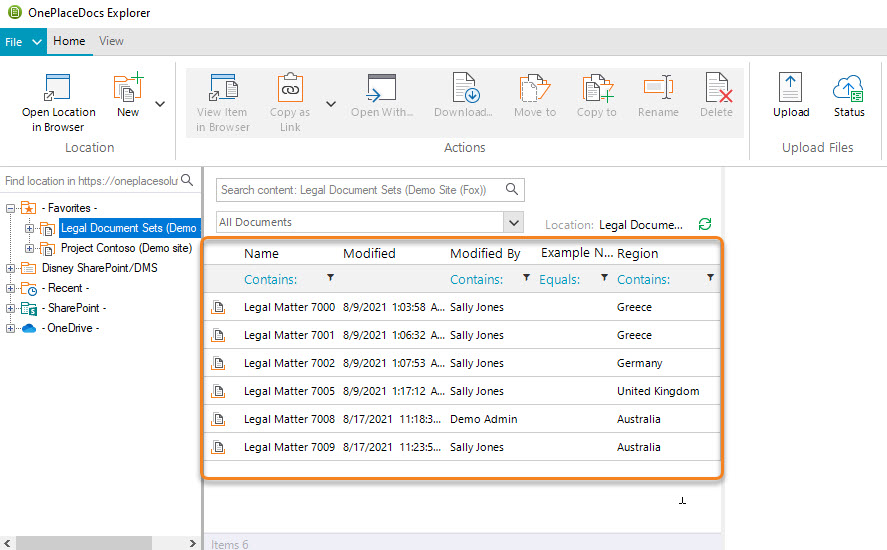 Simplify access to SharePoint folders & document sets with visibility in the content grid
Productivity boost with key new features
Rename files:
R8.4 additionally delivers the ability to rename files as well as SharePoint folders and document sets. This enhances the document management options available for the team and reduces context shifting by removing the need to switch to the browser to complete simple tasks.
Copy files:
You can now copy items from one location to another in SharePoint and OneDrive, previously you could only move items. This will be useful if an individual wants to keep a copy of the original item for their personal records, for teams it is a big timesaver to copy templates of frequently used items such as briefing documents or PowerPoint templates that can be used as a starting point for a new document, without changing the original that will be used for future projects.
Edit metadata in bulk:
Further productivity is enabled with the ability to edit metadata in bulk in OnePlaceMail, allowing you to perform multiple changes in a couple of clicks. Previously this timesaving feature was only available in OnePlaceDocs.
---
See the full list of enhancements and bug fixes in What's New.
We know that 8.4 delivers a lot and can't wait for you to start using all the latest benefits, but if you do have questions or would like a personalized demonstration, please contact us.