What's new - OnePlaceMail App
March 24, 2021
Enhancements
OnePlaceMail now supports special characters when saving to SharePoint. These characters are , . ~ & { } -+ = `
Please note, # and % are not currently supported.
Fixes
Resolved an issue when saving to Lists in a subsite after performing a global search
February 23, 2021
Enhancements
The email content type will automatically be selected when saving to a location where the OnePlaceEmail content type is applied
February 19, 2021
Enhancement
Ability to save emails to SharePoint, Microsoft Teams & OneDrive for Business is now available for Shared Mailboxes.
February 2, 2021
Enhancement
Improved experience when searching for Teams locations
Fixes
Resolved issue when attempting to save an email that had leading space in the filename
September 15, 2020
Enhancement
When composing an email you can now

insert links to list locations. This includes the list itself or to specific folders within a list
insert links to specific items

Pin a list location or list item when performing a search for faster access
August 18, 2020
Bug Fixes
Resolved an issue preventing users from attempting to save to OneDrive
August 11, 2020
Enhancement
When saving to a location, the OnePlaceMail App will now proactively check to see if the user has permission to save the item
July 14, 2020
Enhancements
Support for lists in SharePoint, including the ability to save to folders in lists.
Support for custom metadata when saving to a list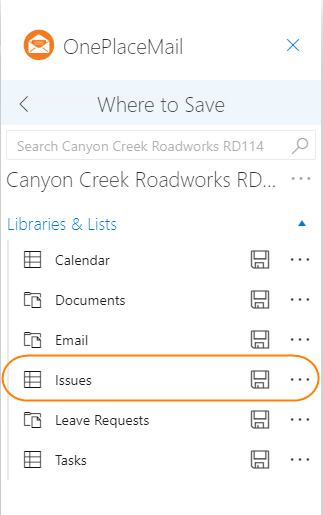 June 30, 2020
Enhancements
Auto-deployment of subscription for users is now available
Ability to create folders when saving an email or attachment to SharePoint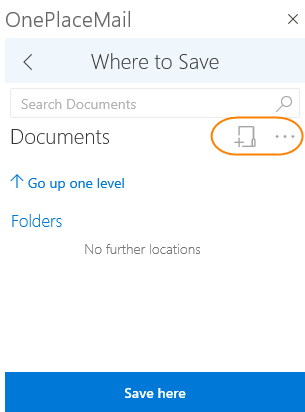 April 22, 2020
Enhancements
Ability to insert content and locations from SharePoint, Microsoft Teams and OneDrive to an email being composed or replied to
Ability to convert a file to pdf format when inserting content from O365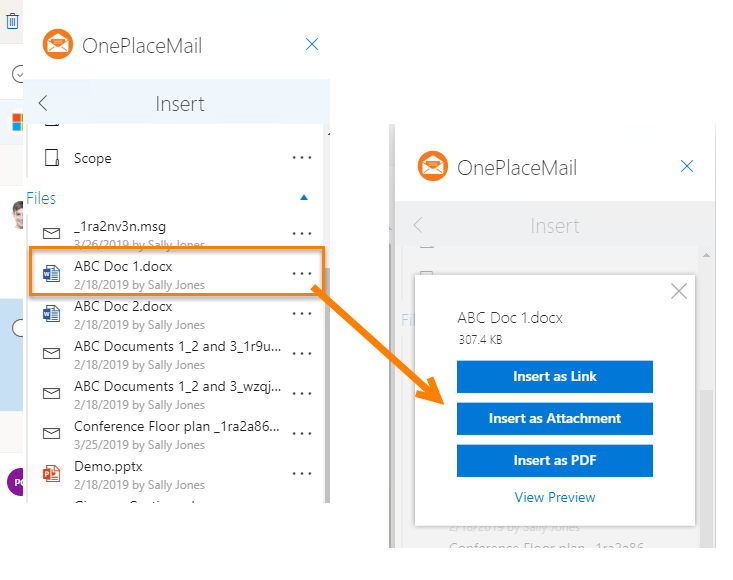 Bug Fixes
Resolved issue when clicking on the OneDrive issue can raise an error message
Resolved issue when some IE users could not preview a file
February 10, 2020
Enhanced authentication to work with Google Chrome browser (80 Feb 4, 2020) for industry best practice, third party support
Fixed authentication to work with macOS
Resolved issue where authentication on some iOS devices was not working
January 28, 2020
Enhancements:
Support for followed site - followed sites will automatically appear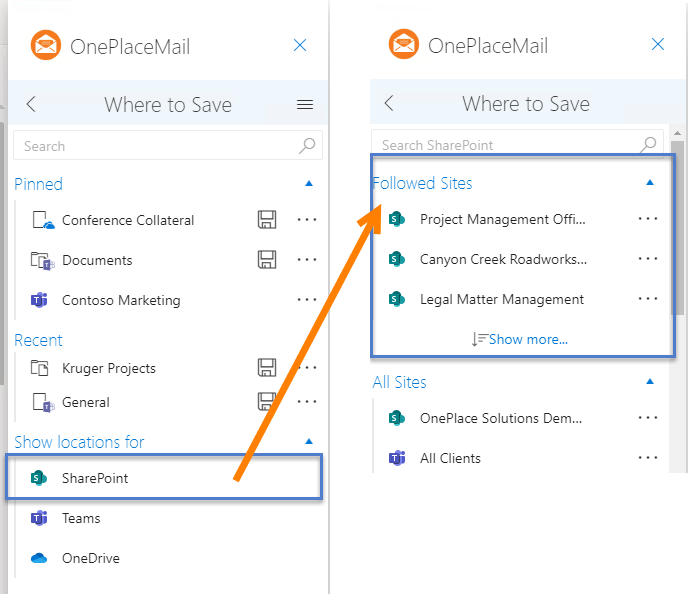 January 21, 2020
Enhancements
Ability to search a specific SharePoint location (site/document library/folder or document set) when selecting 'SharePoint' in OnePlaceMail App
Ability to search Teams for a specific Team, resulting in faster search results
January 14, 2020
Enhancements
Create a new email with links - once attachments have been saved using the OnePlaceMail App it is now possible to create a new email with links to the saved attachments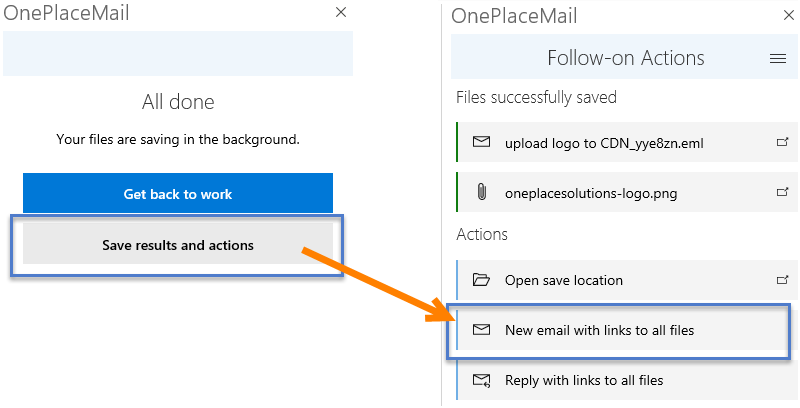 Improved performance in loading and using the OnePlaceMail App for Outlook
January 9, 2020
Enhancements
Support for Private Channels (indicated by a padlck on the Channel icon)
Sections defined with collapsible areas for easier navigation
Delve bog sites excluded from search results for improved search results
Updated icon for Teams and OneDrive locations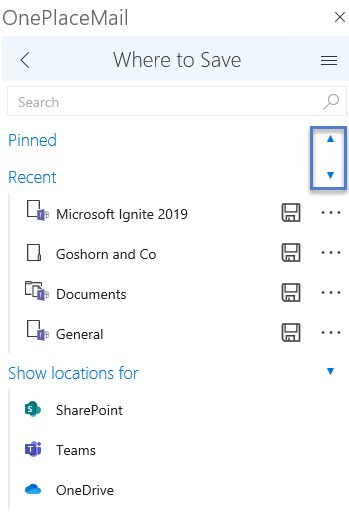 Bug fixes
Resolved issue when email columns are added to a library and a content type then added to the same library
December 12, 2019
Enhancements
It is now possible to save an email or attachment directly to a private channel.
Support for renamed channels is now available.
November 12, 2019
Enhancements
Able to save an attachment or email to OneDrive for Business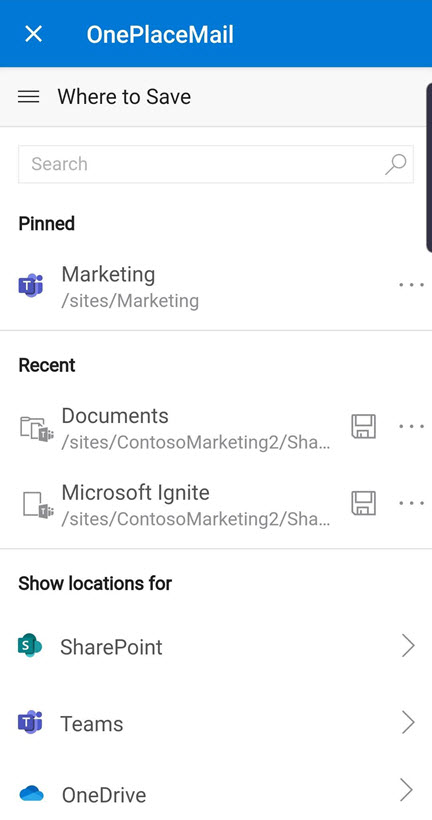 New conversations in Teams can be marked as important
September 12, 2019
Enhancements
New icons introduced for SharePoint and Microsoft Teams locations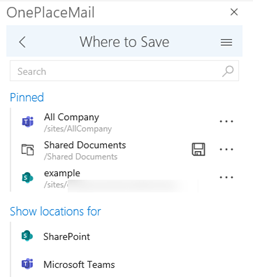 August 27, 2019
August 13, 2019
Enhancements
Upon saving emails and attachments to SharePoint/Microsoft Teams channel and starting a new conversation you can now @mention people.
Fixes
Resolved an issue where some icons were missing when using the App in Outlook Desktop
July 30, 2019
Enhancements
Enterprise subscription license management through auto assignment of subscription (streamlining enterprise deployments) – contact

customer success

to enable this capability for your subscription.
July 10, 2019
Enhancements
Metadata field now support Norwegian (Bokmål, Nynorsk, and Northern Sami), Icelandic, Hamingju dagur
Improved support for Profile picture when displaying Person & Groups Column
Improved handling when Content Types cannot be loaded on metadata page
Improved detection and handling of connections to API endpoint, including fix to an authentication issue
Minor bug fixes and improved resiliency through CDN
June 25, 2019
May 29, 2019
Enhancements
Improved methods when detecting attachments on mobile devices.
---
Implemented the Graph SDK in our services to allow us to retry some calls returning an Http error code (429, 503 & 504).
Bug fixes
Resolved issue around the position of the drop down arrow in multi select columns (Look up and Choice) on Android devices.
April 10, 2019
Enhancements
Support for currency columns is now available.
Support for Date/Time Columns is now available.
Site collections are now sorted alphabetically
March 13, 2019
February 26, 2019
Enhancements
OneDrive Link created for items saved to SharePoint. Mobile users can now open up files saved in SharePoint using the SharePoint Online preview
Trial expiry date has been improved to more user friendly format such as 'Trial Expires in x days', so you know exactly how long you have left in trial mode
Fixes
Fix page scrolling issue in iOS
Fixed sign-in issue where login is different to mailbox address