OnePlaceMail R6.4 sees a significant focus placed on the speed of access to content stored within SharePoint from desktop applications. The existing Insert from SharePoint, Open from SharePoint and Save to SharePoint windows have seen significant enhancements with support for SharePoint views and column rendering.
Release 6.4 is the first in the world to provide full support for both extending and co-existing with SharePoint 2013 Site Mailboxes. Therefore, allowing you to future-proof solutions you build today.
Many other fantastic enhancements for the capture, classification, and access to SharePoint content from desktop applications have also been delivered with a smaller memory footprint and greater overall performance.

Faster access to SharePoint content
Faster access and efficient discovery of SharePoint content encourages greater end-user adoption.
Items can be selected from SharePoint libraries, lists, and also site mailboxes. Access to SharePoint views, including columns, group by, sort, and filtering capabilities makes finding content very efficient.
SharePoint document set support
Document sets now display a unique icon when browsing SharePoint locations. Support for folders within sets (available within SharePoint 2013) and sorting of content types according to SharePoint new button order are some of the new enhancements.
Flexible SharePoint navigation tree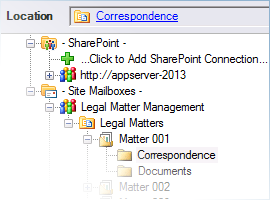 The SharePoint navigation tree (used in Save, Open, Insert windows) has been enhanced to provide more flexibility when designing your solutions. Define a view within the selected library/list to control the folders/document sets presented for better usability and management of threshold limits in SharePoint 2010/ 2013.
Other highlights include
Open / Download:

OnePlaceMail Highlights Document