KB0141 - Error 'Custom folder icon is not allowed for a folder not displayed in Outlook'
Affects:
OnePlaceMail + Office Release 1702: Build 7870.2024 (Current Channel)
Issue:
When you upgrade Office365 to version 1702, build 7878:2024, and install OnePlaceMail an error appears on restart.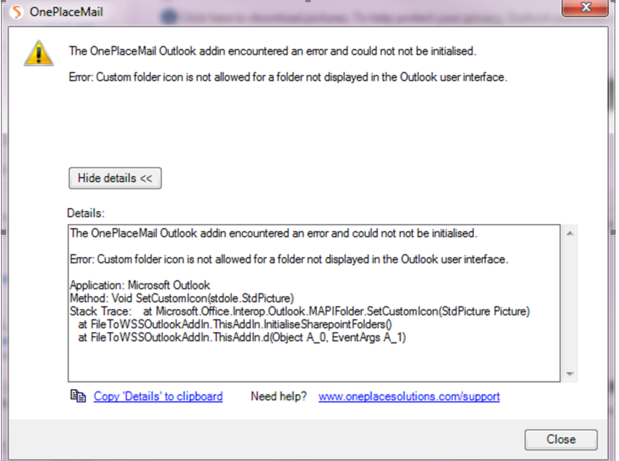 Reason:
Changes made to the path of the PST in Windows, caused the PST to not load correctly.
Resolution:
1. Check your current version of Office
In Outlook, select File, Office Account and take note of the release and build number. If this matches 1702 7870:2024, upgrade to the current release.
2 Remove PST
If the file path of the PST has been affected, the PST needs to be completely removed before rstarting Outlook.
The steps are
In Outlook
Browse to File | Account Settings | Account Settings
Select Data Files
Locate the OnePlaceMail PST.
Select Remove.
Close Outlook
In Windows Explorer
Browse to C:\users\<username>\appdata\local\OnePlace Solutions
Delete the oneplacemail.pst located here.
Restart Outlook.
The PST will be re-created automatically after Outlook has been restarted.