KB0158 - Mismatched versions causes 'Assembly Reference' error
This article provides information regarding solving an error when attempting to launch Ideagen OnePlace Solution products.
Issue
User's will encounter a message 'Error performing license check…The located assembly's manifest definition does not match the assembly reference (HRRESULT: 0X80131040)' error when there are differing versions of the Ideagen OnePlace Solutions software (OnePlaceMail, OnePlaceDocs, OnePlace Solutions Administration client) installed on the machine.
For example, you have OnePlaceMail R8.8.1 and OnePlaceDocs R8.6.0 installed.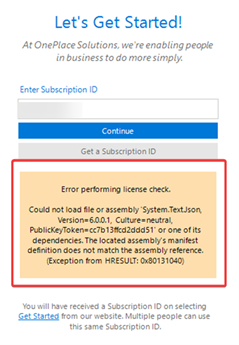 This error may appear when performing any particular action in OnePlaceMail or OnePlaceDocs. However, most users encounter it on launching OnePlaceDocs, or performing a save with OnePlaceMail.
Affects
Ideagen OnePlaceMail and OnePlaceDocs installed on a client machine
Resolution
All installed products must be the same version/build.
You will need to navigate to Control Panel > Programs and Features or Installed Apps in Windows 11 Settings and you will need to ensure the build number for the OnePlace Solutions products are the same. If there is a mismatch, you will need to uninstall and ensure the same version of the products is installed. Please find a link to download the latest release here.
Settings > Apps > Installed Apps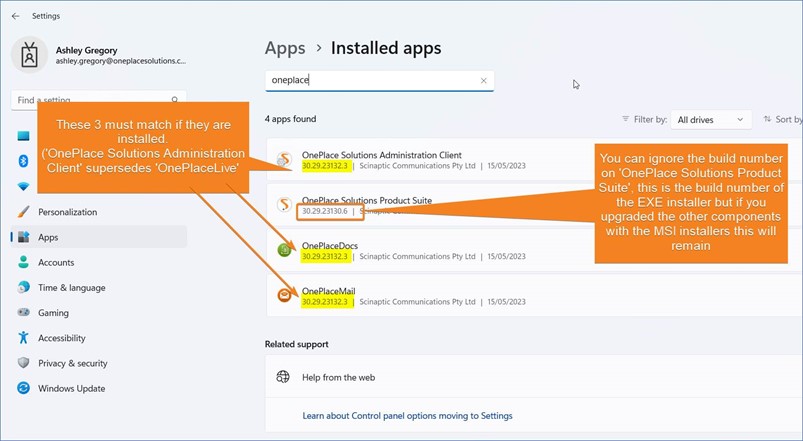 You can also check the version/build number via Control Panel > Programs & Features