OnePlace Solutions R7.4 is one of the best yet
Release 7.4 is a time saver.... our new features will be very useful for all users
Support for SharePoint 2016
Edit SharePoint item properties from Microsoft Outlook and Docs Explorer
Central Register - supports document sets & computed value columns as the display column
...plus more.
Bug fixes:
Right clicking on central register item no longer causes an error
Ampersand issues resolved in folders/files/searches
Resolved inconsistencies working with .dotx files
...plus more.
Edit item properties
Users will get a real kick out of the new feature allowing them the ability to edit SharePoint item properties in Outlook and Docs Explorer without having to go into SharePoint.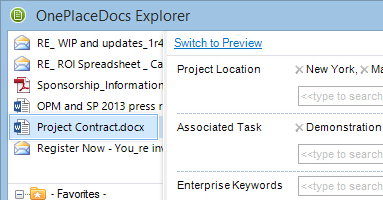 Other enhancements
We are now supporting SharePoint 2016
Solution Profiles - redesigned and more user friendly
Central Register - supports document sets & computed value columns as the display column
...plus more.
The full range of enhancements and bug features can be viewed in the R7.4 release notes.
Related Articles