Save emails from Outlook for iOS to SharePoint / Office 365
Bring SharePoint to where you work
Saving emails from Outlook for iOS into Office 365 SharePoint is now possible with OnePlaceMail (Office Store Add-in).
OnePlaceMail developed by Microsoft Gold partner, OnePlace Solutions is the first third-party add-in after launch partners (Dynamics 365, Evernote, Giphy, Nimble, Trello, and Smartsheet) to be approved by Microsoft to work on the Outlook for iOS add-in eco system.
OnePlaceMail (Office Store) brings the power of SharePoint for information capture and management to the iPhone and iPad.
Take advantage of otherwise 'dead time', where you have limited time and resources available to securely capture content from your Outlook inbox into SharePoint
Capture email attributes into SharePoint when saving from Outlook for iOS
...plus more.
Be productive wherever and whenever you want.
The OnePlaceMail (Office Store App) look and feel is an intuitive blend of native iOS and Microsoft Office UI, resulting in a natural experience for all Microsoft Outlook users...
Getting started is super easy, simply download from the Microsoft Office Store.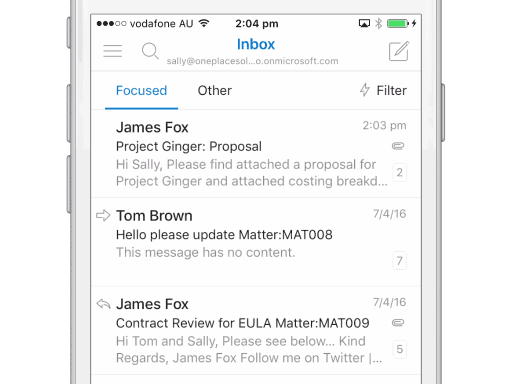 Save to SharePoint
Select an email or attachments on your iPhone or iPad and use the OnePlaceMail add-in to select a SharePoint / Office 365 Group location.
The process of saving is all performed in the background along with the automatic capture of email attributes to SharePoint columns.
And more
Save email attachments to SharePoint from your iPhone / iPad
A super fast experience when saving content
Remain productive even on small devices
Now available in the Office Store (in Preview).
Note: Saving from Outlook for Android to SharePoint is coming soon...