We are excited to have FlowNinja, John Liu as our guest blogger. John is a Consultant at SharePoint Gurus, a Microsoft MVP and founder of Flow Studio app. He specializes and blogs (johnliu.net) frequently on client-side scripting, custom development, Flows, and PowerApps. Originally from a long technical background with .NET, he made the jump to focus and work with numerous SharePoint and Office projects over the last decade. As one of the world's most active advocates of Microsoft Flow and serverless computing. John is pushing the boundaries of what the technology is capable of and educating the rest of us through his prolific tweets, blogs, and speaking engagements. It is an honor to have him feature on our blog.
In this blog post, John demonstrates a new technique for being able to copy email to SharePoint using Microsoft Flow. This adds to the list of out-of-the-box ways to help users unlock business knowledge locked in users' mailboxes.
Check out other blogs on out-of-the-box solutions to get email into SharePoint:
Now over to John Liu….
Save our important emails to SharePoint with Microsoft Flow
The Microsoft Graph team celebrated the release of the endpoint to get the MIME content of an email; this allows us to download the raw contents of emails (previously we could only download attachments).
Curiously, we went to look around in the Outlook connector in Microsoft Flow, and behold there's already an export email (preview) action that calls this endpoint to return us to the full email.
A moment later - we have built a quick example such as this – we check if the incoming email has "Invoice" in the subject, and then save the email to our team's SharePoint document library.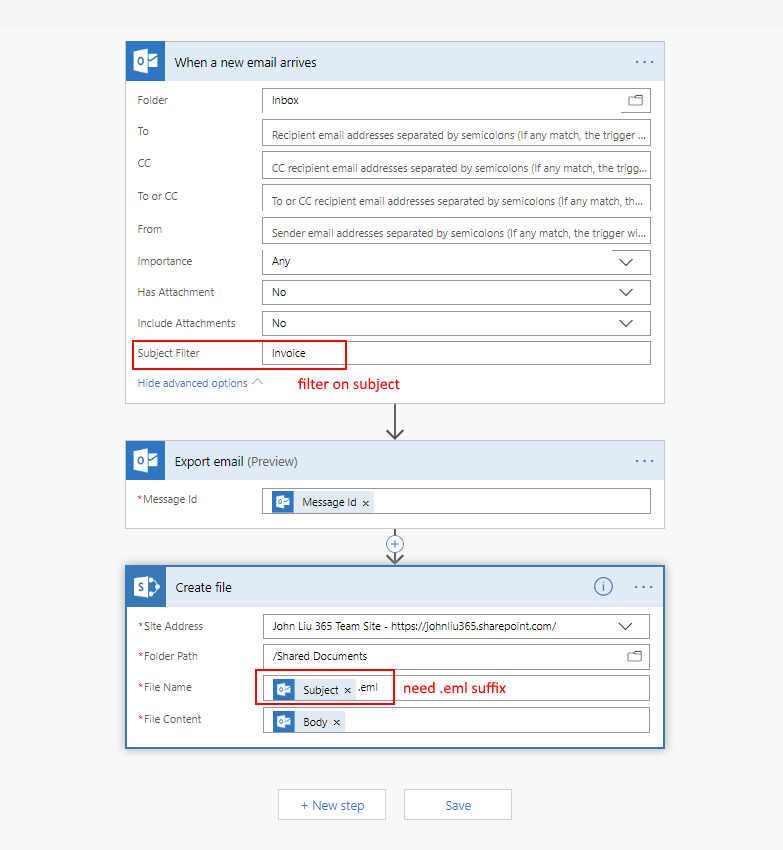 This stores our email with any attachments as a single email file into SharePoint. By the magic of modern SharePoint document libraries, an .eml saved in a SharePoint library gains quick previews, and we can verify that it does include the attachments as well.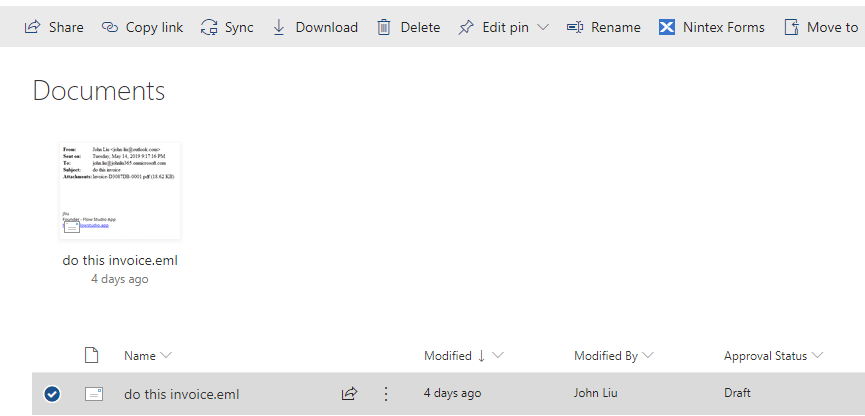 Scenarios like this are simple to build, but this is only the starting point to get the creative juices flowing. What else do we need to automate? Some emails are far too important to stay in users' mailboxes - what if they go on holiday or are sick? Some emails should be copied out to a SharePoint site, announced in a team, and have someone assigned a planner task to follow up.
The modern Office 365 is amazing, and when we start to combine with various Office Apps - the possibilities are only limited by our imagination.
Every email message could be the beginning of an automated business process.