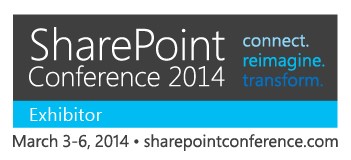 Wow, it has been a busy 16 months since the last SharePoint conference in Las Vegas!
We are very excited to be exhibiting again and look forward to seeing everyone at booth 2131 throughout the conference.
Top 5 reason to visit us at booth 2131 in Las Vegas:
New Products: OnePlaceLive is being announced in Las Vegas
Updated Products: OnePlaceMail R6.6 is being launched
Learn about the new OnePlaceEnterprise suite and integration with Microsoft OneDrive
Learn about how OnePlaceMail is extending SharePoint 2013 Site Mailboxes
We are growing and looking for great people to join an awesome team!
Live Demonstrations
See live demonstrations of the OnePlaceEnterprise software throughout the conference at booth 2131. Speak to the team behind the software and see how you can bring your solutions alive.
Free Community Edition
We are maintaining our 100% free OnePlaceExpress community offering by way of the OnePlaceMail Express Edition. You can download both the Express and Enterprise offering today and be up and running within 3 minutes.