OnePlaceMail now delivers greater performance, improved usability and tighter integration with business workflows and line of business systems.
OnePlaceMail Release 6.3 is available for download in both the free Express edition and Enterprise edition and new features include;
Performance: increase of up to 95% when saving emails and email attachments to SharePoint
Business Connectivity Services: Line of business data surfaced directly within Microsoft Outlook, Office and File Explorer with no additional configuration required
People and Groups: Significant enhancements for SharePoint People/Groups columns support
Launch: A new capability to launch actions and applications from within Microsoft Outlook
Business Connectivity Services
OnePlaceMail works with existing SharePoint 2010 Business Connectivity Services (BCS) configuration with no additional configuration necessary. Performance and usability of external Data Columns is second to none.
OnePlaceMail's support for External Data columns (Business Connectivity Services):
Allows email/files to be tagged with metadata from external systems
Provides full support for both a and resolve actions
Provides support for
Delivers high performance over large datasets
Watch video: This screencast shows '' and demonstrates the new capabilities in action.
People & Groups Column – Improved usability and performance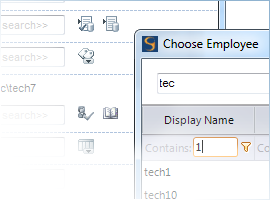 Support for the . In addition to significantly improving usability, the new interface also improves performance selecting the relevant people/groups and saving to SharePoint.
Launch applications, files and start actions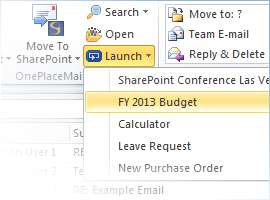 The new Launch capability expands support for defining multiple SharePoint Search locations/scopes from within Outlook.
The configurable Launch ribbon menu allows for shortcuts to web pages, files and applications to provide quick access for users to perform actions directly from Microsoft Outlook.
OnePlaceMail Release 6.3 also provides support for SharePoint 2013 Preview environments and further capabilities will be announced in a subsequent R6.4 where both Office 2013 and more specific SharePoint 2013 capabilities will be unveiled.
Other enhancements include
Check for updates to validate your OnePlaceMail installation is the latest available
Enhanced browsing experience from within Outlook (now supports page navigation controls and ability to open the current page in a full browser)
"Email as Attachment" context action now available in custom library definitions
Column mapping can now be achieved with columns that are not shown in Create/Edit forms