The Digital Workspace
A digital workplace is the interaction of people, process, and technology. People are the center of the digital workplace and should remain engaged and productive with the enhanced collaboration and streamlined processes that might be implemented to ensure strong governance and records management.
Processes & Compliance
The volume of data that is created today is accelerating at a rapid pace and information management and records compliance has never been more important.

With this volume of data, it has become critical to solve the classification and records compliance through workflows and automation options which are available as part of Microsoft 365. By automating such processes, information management and records compliance can be streamlined to meet business requirements.
To achieve the balance between people and technology we need to implement system driven processes where possible and make it easy for people to add context to information that can be used for intelligent business processes and compliance.
Microsoft 365 provides several options to streamline and even automate information protection, governance, and records compliance, including the ability to set retention policies on a document library and have a retention label implicitly applied to any piece of content saved to that location. This removes the need for a user to apply any custom classification and encourages better records management. This automation can be extended further with auto labeling, where a label can be applied based on metadata by using the power of Keyword Query Language Search (KQL search), or by using techniques such as trainable classifies which can use artificial intelligence to look for specific content to achieve more intelligent and automated governance or records compliance.
Classifying Information
OnePlace Solutions brings the processes and technology to business users in the applications where they work. By allowing users to easily move content to locations in SharePoint or Microsoft Teams, the business can be confident that the right information is being classified and saved to the right location. This is demonstrated when a user saves an item to a SharePoint location, they can select the correct content type and apply any additional metadata. Once this important information is captured this additional context can be leveraged to assist in intelligently automating retention labels. From an end-user perspective, they can save, classify, and access content while also continue to remain productive in the applications they are familiar with working in.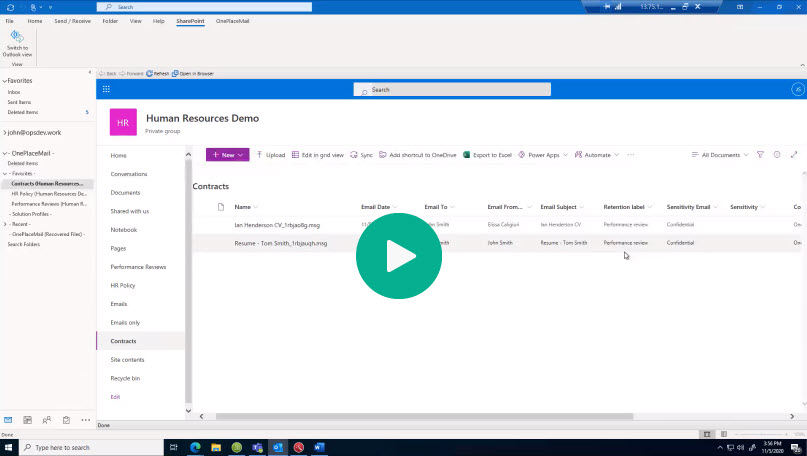 A common use case is classifying an email with a sensitivity label in Outlook as per business process. When saving the email to SharePoint with OnePlaceMail it is possible to have this label automatically promoted to a column in SharePoint or Teams site resulting in true and accurate records, without the need for the end-user to explicitly label the email in the save process.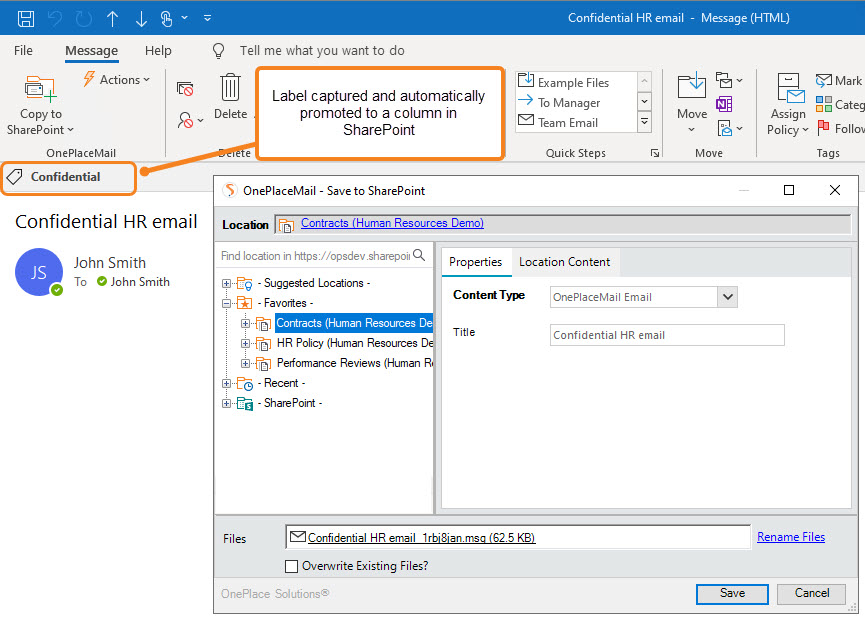 Information governance and records compliance is currently moving at fast pace with the recent initiatives from Microsoft to help with the ever-increasing volume of digital content being created. OnePlace Solutions can assist with ensuring the content is easily captured and classified to ensure the success of these automated processes and also give context to information saved to SharePoint to set retention labels more intelligently.