Building on the well-received capabilities of Release 6.5, further enhancements have been made to the new Outlook Style experience for SharePoint. Significant enhancements such as;
filtering locations on the navigation tree
search for locations when saving
create document sets/folders without leaving Outlook
are some of the new capabilities enabling the creation of engaging business solution on the SharePoint platform.
Navigation tree filter and search
Access SharePoint locations, favorites and document sets from many places within the OnePlaceMail solution. This and the navigation tree is consistent across Outlook, Windows Explorer, and Office applications.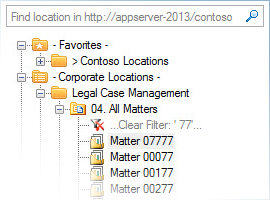 Filter locations with type-ahead inside the navigation tree
Use the in the tree.
By default the filter works using the logic of 'Starts with'. This can be modified to be a 'Contains…' .
Search for a location within the navigation tree
Find a location within SharePoint efficiently
Document sets and folders
Allow end users to efficiently work with SharePoint from within their familiar business applications.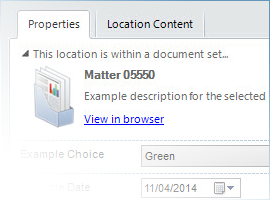 New document sets
Document set enhancements
View a of the document set within the web browser
Hide columns when completing metadata that are configured to automatically synchronize
SharePoint list items
When saving emails, email attachments, files and documents from office applications, OnePlaceMail allows the completion of SharePoint columns. The columns presented are based on the configuration of your SharePoint content Types and/or destination library/list.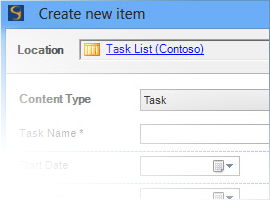 Other highlights include
Support for custom (tokenized) file naming formats when saving email to SharePoint
Support for automatic capture of SMTP addresses from email
Download the OnePlaceMail 6.x release highlights document
Bring your SharePoint solutions alive to untimely achieve greater end user adoption of the SharePoint platform and deliver richer SharePoint solutions.