This article maintains a list of known issues for the current release
Current Release R7.9
Adobe Reader 11: When attempting to save to SharePoint, using OnePlaceDocs the user may receive an error of "Unimplemented or Obsolete function was called".
Workaround: Upgrade to Adobe DC.
We have attempted a range of steps to resolve this issue, and have not been able to reproduce this on any test machines. From our testing we have found this issue to arise when pdf files have been opened from C drive or network drive and attempting to save to SharePoint.
We will further investigate this issue, and update this post with further information. If you are experiencing this issue, please submit a support request here: https://www.oneplacesolutions.com/submit-a-support-request.html
Previous Release Known Issues
Intermittent issue when attempting a save process or viewing a document library in SharePoint 365. An error code 429 dialogue box may appear.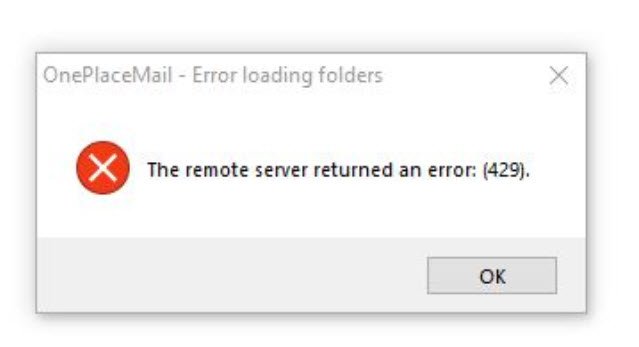 This issue is currently under investigation, OnePlace Solutions is actively working with Microsoft to resolve this issue as soon as possible.
When local profiles are not available, an error may appear when installing R7.5 and above. This may affect Citrix or TS users. The error appears as we cannot access the C:\users\<username>\local\appdata\Upload Transactions directory. A potential workaround is to redirect this path to the roaming profile path.
This has been resolved in Release 7.6
R7.5.1
Errors appear after starting Outlook - after recent Microsoft/Windows update
Error :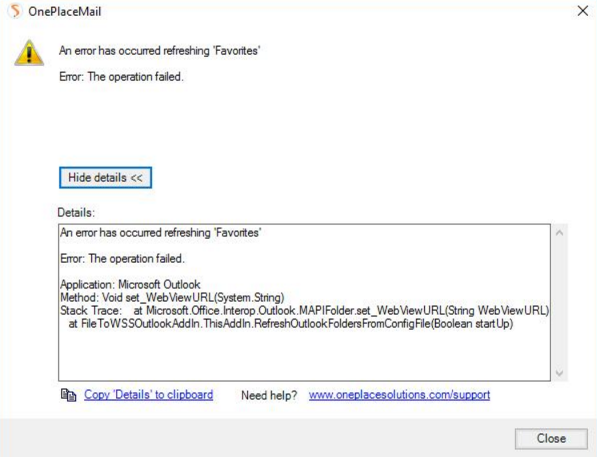 This is a known issue, which surfaced after the latest Microsoft Office/Windows update. Since this update, Microsoft have released the following article which documents a workaround which we will be including in a hotfix that will be released shortly.
Resolution
These changes include updating the registry to resolve the issue of these errors appearing for OnePlaceMail, and re-enable the ability to show content from SharePoint.
The registry change is to add the following entry: EnableRoamingFolderHomepages = 1 to the following location
Office 2016: HKEY_CURRENT_USER\Software\Microsoft\Office\16.0\Outlook\Security\
Office 2013: HKEY_CURRENT_USER\Software\Microsoft\Office\15.0\Outlook\Security\
Office 2010: HKEY_CURRENT_USER\Software\Microsoft\Office\14.0\Outlook\Security\

This issue has been resolved in R7.5.2
R7.5
Issue when installing OnePlaceMail when using roaming profile & redirected profiles.
There is currently an issue when installing OnePlaceMail and using redirected profiles. The path for the PST is modified in Outlook from <network drive>\userprofile\ to '\\?\userprofile'. This causes an error when starting Outlook when OnePlaceMail attempts to load the PST.
Resolved in R7.5.1
R7.4.4

When using OnePlaceMail or OnePlaceDocs for current release for 365
Office 365 Release 1704, Version: 8067.2115,
Office 365 Release 1705, Version 8201.2075
The preview action will return an error referring to a mht file. This is due to changes in how office previews files. This issue should only affect those on the current channel release cycle of O365.
Resolved in R7.4.5
R7.4.1

Outlook and OnePlaceDocs may crash when attempting to preview an email. This is due to unforeseen changes in how Windows handles files of a specific length. Please upgrade to this release to resolve this issue.
This has been resolved in R7.4.2.
R7.4
R7.4 has an introduced a new list for Configuration Profiles. The OnePlaceSolutions Live Site, requires an additional column to support this new feature. Please find a link to a KB for further information, and a link to download the column and sandbox solution here.
When upgrading from a previous release, and using an existing config_update.xml file, you may see an error of "Object Reference not set to an instance of an object". This is an issue with adding the site collections. Please add the userEditEnabled="false" or UserEditEnabled="true" to the xml. Example: <siteCollection action="insert"

userEditEnabled="false"

siteColUrl="http://vs-server38" />
R7.3
There is a current known issue with Office365 and the ability to preview items in OnePlaceMail and OnePlaceDocs. It may also occur with older version of OnePlaceMail and OnePlaceDocs because of the change made to Office 365.
This has been resolved in R7.4, and the workaround is to upgrade client installs. Please refer to this KB article.
R7.2
Installing using setup.exe on Windows 64 bit / Office 2016 using setup.exe installer, resulted in an incorrect error returned, stating that there was no valid Office version installed.
Workaround: Install the software via MSI link. This has been resolved for R7.3
R7.1
When installing OnePlaceSolutions on a machine, where the pre-requisite Microsoft Visual Studio for Office 2010 (VSTO) is not installed, the install may fail, with error Error 0x80091007.
Workaround: Install the pre-requisite prior to running the installer package. Please select this link to download the VSTO software