Greater collaboration with Microsoft Teams and legal matter management


This is the latest article in a series discussing what is possible to achieve by using the Microsoft 365 platform for legal matter management in conjunction with the OnePlace Solutions products. Over the coming weeks the following articles will be published, revisit the blog:
Greater collaboration with Microsoft Teams and legal matter management
A modern legal matter management solution for a law firm or corporate legal department needs to be intuitive and delivered in a personalized manner to where lawyers, paralegals, and other team members perform their work. As discussed in our previous article on the Top seven benefits of Microsoft 365 for legal matter management, organizations can use their existing Microsoft 365 platform to deliver a personalized modern legal matter management system.
By leveraging Microsoft 365 Teams, SharePoint, and OneDrive for Business as part of a legal matter solution, organizations can achieve greater governance and records compliance in a consistent, organization-wide manner, while also enabling greater collaboration among their employees.
Depending on their business requirements, a law firm or corporate legal department may provision a Teams site per legal matter. This ensures all artefacts associated with the legal matter are brought together in one central location, including a SharePoint site collection for document and correspondence management. When implementing a solution, some specifications for Teams may need to be considered, such as how many Teams sites a user can be a member of at one time.
There are four ways you can benefit from leveraging Teams in your modern legal matter management solution:
Deeper conversations among employees
With the capacity to shift a conversation from Microsoft Outlook to Microsoft Teams chat, employees can collaborate more effectively, letting them make better decisions faster, resulting in fewer emails.
Multiple types of data can be stored in a centralized location
Emails, attachments, and documents can be saved in a secure SharePoint or Teams location with content shared in the Teams channel via a link. Having all documents, emails, and related conversation in one place, accessible from all your familiar applications, simplifies legal matter management, driving greater productivity and, ultimately, better customer service.
Reduced version control risks
Saving documents to SharePoint and Teams allows for real-time collaboration on a single copy of a document, avoiding duplicate copies of documents, version control issues, and the risk of not being confident in finding the latest information when required. It also means emails and other documents are not locked away in personal inboxes where the wider team can't access them. The result is more transparency around documents, with less risk that an employee will work on or use the wrong version of a document.
Delivery of the business solution to where you work
Access to legal matters from where you work is critical to the success of the legal matter management solution. By connecting Microsoft Outlook to legal matters in Microsoft 365, there is no need to switch from one application or system to another, improving productivity and allowing legal personnel to remain focused on the task being performed.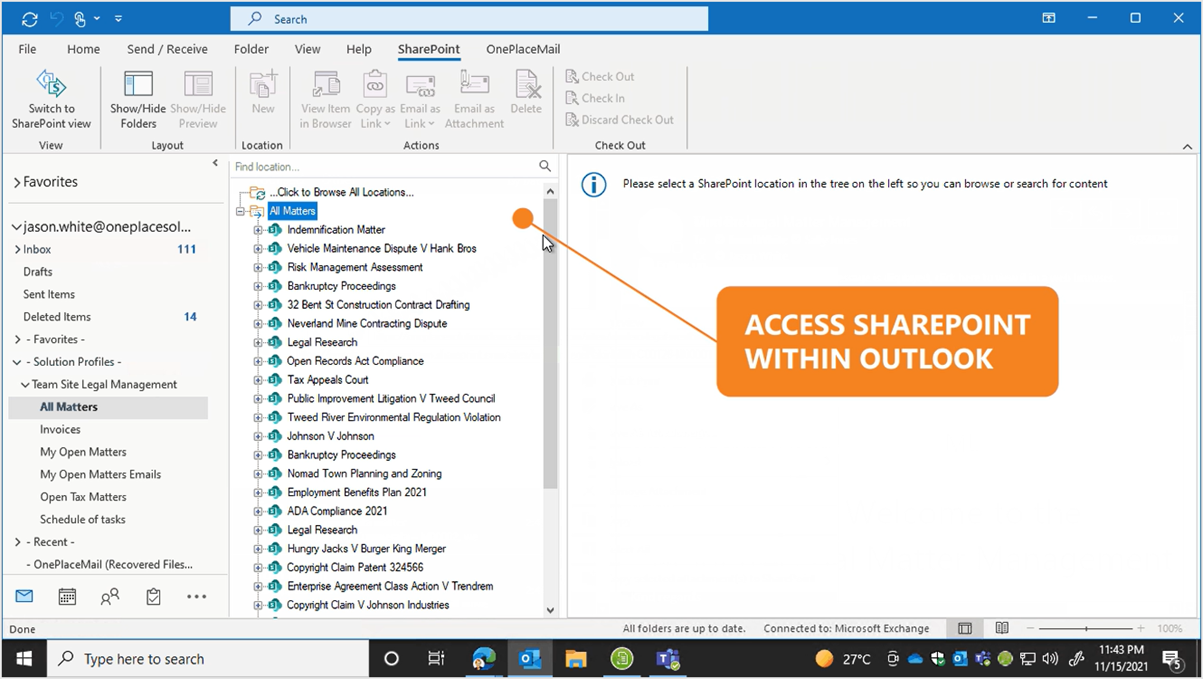 Microsoft 365 is a powerful platform, delivering enterprise-wide consistency for better collaboration, information management, and governance; however, it is not an out-of-the-box, dedicated legal matter management solution.
For most law firms and corporate legal departments, the key barrier to using Microsoft 365 as a legal matter management platform is simply a lack of inherent know-how. This blog series will provide information and guidance on how to use Microsoft 365 for modern legal matter management to deliver workflow efficiencies, cost savings, and greater productivity.
OnePlace Solutions enables people in business to do more simply. To learn more about how OnePlace Solutions can help your law firm or legal department work more effectively without investing in expensive bespoke solutions, or help your organization leverage Microsoft 365 as a platform for legal matter management contact the team today.
Interested in this series?